ben24fan's Jeff Gordon News Page
Even though I have lots of information on my pages already, I felt that it was not adequate to just put some stats out there and not keep everyone informed of other items of attention. I am not exactly sure what this page will contain, but it will probably be a mix of things, such as paint schemes, neat news articles about Jeff, weekend schedules, and upcoming events. Stay tuned!
Weekend TV Schedule - The Winston (Concord, NC)
NOTE: All times are U.S. CENTRAL time zone.
Winston Cup
Friday, May 16 - Qualifying from 5 to 7 p.m. on SPEED.
Saturday, May 17 - The Winston Open from 6:30 to 8 p.m. on FX.
- The Winston from 8 to 9 p.m. on FX.
Paint Scheme News

2003 Phoenix International Raceway - Looney Tunes:
Several Looney Tunes characters will invade Jeff Gordon's normal Fire-and-Flames schemed Dupont Chevrolet when the Winston Cup drivers head to Phoenix International Raceway for the November 2 race. This is the third consecutive year in which Jeff has driven a Looney Tunes car (the previous two were at Richmond), but this time, the normal base scheme with the flames will still be on the car, with the special decals incorporated around the flames. Here's the diecast car image, thanks to
Jayski
(4-25).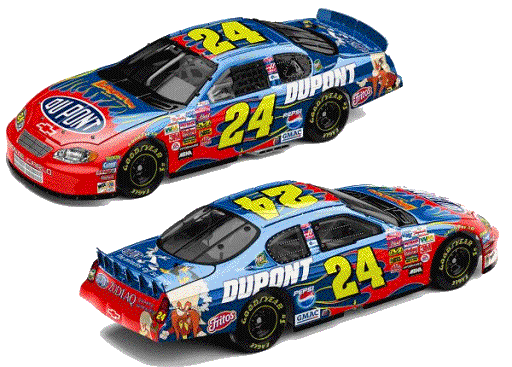 2003 Pepsi 400 at Daytona - Who Wants to be a Billionaire:
On July 5, Jeff Gordon will drive a car featuring the "Pepsi Billion Dollars" summer promotion. I was hoping for another patriotic car like last year's Pepsi 400 beauty, but no such luck this year. Let's hope this Pepsi car brings Jeff some good luck and a victory. Unfortunately, racing the Pepsi car has resulted in no victories and an average finish of 19.6 in five races, but that just means Jeff is due for a win. Here's the car (image from
JeffGordon.com
). (4-3)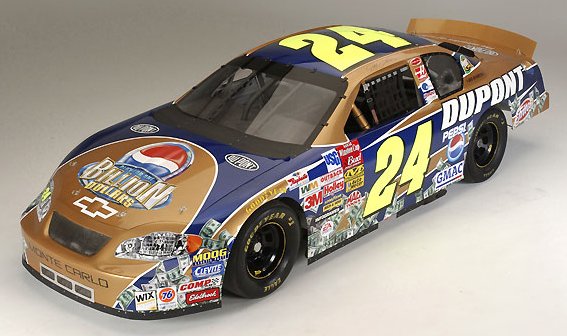 2003 Lowe's Motor Speedway - "He's really flyin'!":
Gordonline.com
reports that diecast dealers have begun taking preorders on a car that Jeff is supposed to drive in the May races at Lowe's Motor Speedway. There are no pictures yet, but the scheme is supposed to commemorate the 100th anniversary of the Wright brothers' first successful flight. As soon as I find a picture, I will post it below.
UPDATE:
here's a good image (from
JeffGordon.com
). (3-7)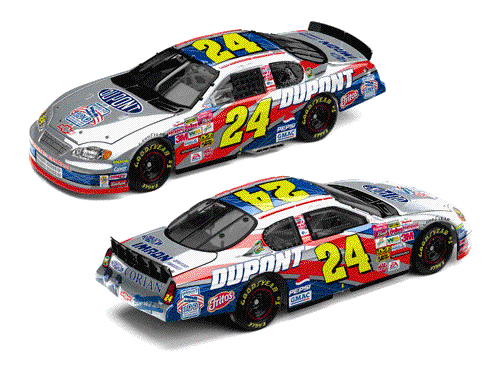 Appearances

Jeff Gordon chat at NASCAR.com:
Jeff chatted on
NASCAR.com
on Thursday, May 1. As usual, people came up with great questions so be sure to read the
chat transcript
; I am sure you will pick up at least a few interesting things about Jeff. (5-1)
Created January 12, 2002